Cricket News
Ravi Shastri recalls convincing Virat Kohli to pick Shikhar Dhawan for Sri Lanka Test series 2017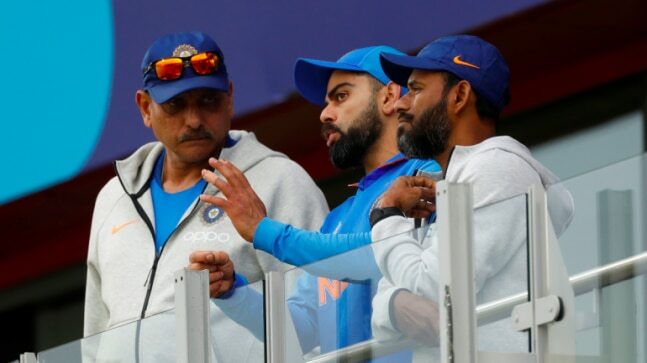 Former India head coach Ravi Shastri had a selection discussion with Kohli during his tenure.
India lost the 2017 Champions League final to London rivals Pakistan. After the results, then-head coach Anil Kuble resigned from the position following a clash with Kohli.
Ravi Shastri replaced Anil Kumble in 2017
Shastri succeeds Kumble as India's new head coach and his first assignment is India's trip to Sri Lanka in August.
India opener Shikhar Dhawan came from a great championship trophy as he amassed 338 runs with an average of 67.60 in five innings.
Tamil Nadu's Murali Vijay, who was India's regular opener in that period, was unavailable for the Test due to injury.
Ravi Shastri explains Shikhar Dhawan's choice for Sri Lanka Test
Shastri proposed Dhawan's name as Vijay's replacement for Kohli, but the Indian captain did not believe the suggestion. Somehow, Shastri pushed Dhawan into the team, and he threw hundreds of pitches in four innings, including 190 in Galle's first Test.
"When people talk about options, I remember one time…it was a great one. Shikhar Dhawan, he wasn't going to play, he wasn't in it. He had a good trophy. I went to Virat and said , 'This is the guy,' but he said 'no.' He said 'We're looking at getting someone to play. So we think we're going to continue that process,'" Shastri said on Star Sports.
"I said 'No, let this guy try. He looks dangerous. He looks good. If he starts, he's going to win your game in a session. The first game he plays, he's drinking Got 190 before tea. That's it. The stamp of the series is there. Then, once they lose the first game, it's game after game," he added.
India beat Sri Lanka 3-0 in the Test series, then 5-0 in the ODI and 1-0 in their only T20I match.
Also read: Shubman Gill and Rishabh Pant chatting: Ravi Shastri recalls Brisbane v Australia Test chase
!function(f,b,e,v,n,t,s)
{if(f.fbq)return;n=f.fbq=function(){n.callMethod?
n.callMethod.apply(n,arguments):n.queue.push(arguments)};
if(!f._fbq)f._fbq=n;n.push=n;n.loaded=!0;n.version='2.0′;
n.queue=[];t=b.createElement(e);t.async=!0;
t.src=v;s=b.getElementsByTagName(e)[0];
s.parentNode.insertBefore(t,s)}(window, document,'script',
'https://connect.facebook.net/en_US/fbevents.js');
fbq('init', '944637919386237');
fbq('track', 'PageView');
Source link