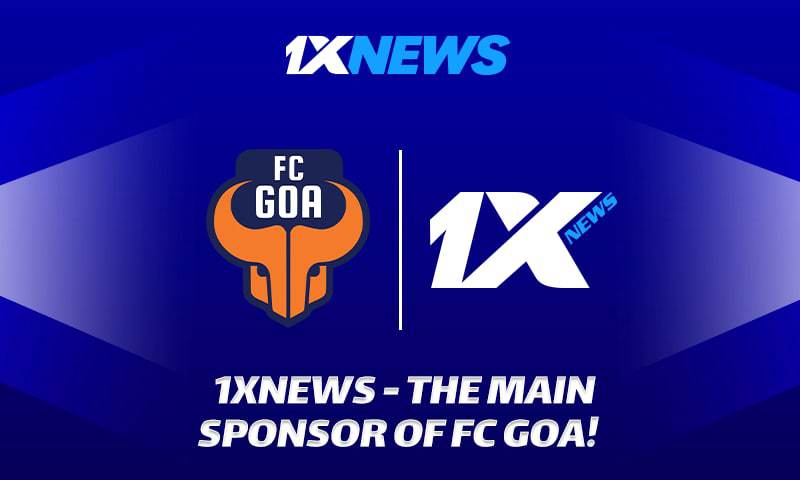 1Xnews has reached an agreement with Goa, a football club that plays for the Indian Premier League. The contract is valid for the entire 2021/22 season. Within its framework, the 1Xnews logo will appear on the team's jersey and on the player's training uniform during the game.
In addition, within the framework of cooperation, 1Xnews will participate in the club's activities on social networks. In addition, advertisements on news sites will appear in ISL's live broadcast of matches featuring FC Goa.
Harish Kapoor, Marketing Manager, 1Xnews Positive evaluation of the signing of the partnership: "We are pleased to announce that we are the shirt sponsor of the Goa Football Club this season. At FC Goa, we have discovered a brand that is as modern and proactive as ours. We believe this relationship will bring great value to both of us. Income.
"As a global brand, we are always seeking to push the boundaries of the fan experience for football fans all over the world. This is our goal for FC Goa and Indian football fans. Most importantly, they value their fans and know what it means to be a supporter of this beautiful game.
"At Goa Football Club, we see an entity that values ​​partnerships and hope to achieve the best results from an association like ours. We believe this transaction will bring more momentum to Gaurs' upcoming ISL season ."
Akshay Tandon, Chairman of Goa Football Club I believe this cooperation will achieve fruitful results: "I am very happy to announce our new partnership with 1Xnews. The partnership shows the growth of clubs and leagues. They are a reputable brand and share our growth vision.
"Front shirt sponsorship is very important to the club. We believe that this partnership will help us make a more tangible contribution to Indian football."
For 1Xnews, this is its first sponsorship experience in the Indian Super League. The sports website focuses on cricket and football, and is dedicated to reporting on the sports activities of the Goa Football Club.
FC Goa was established in 2014 and has been a full member of the Indian Premier League ever since. Gaurs is the most stable club in India, with 6 out of 7 seasons entering the playoffs.
In 2021, Goa Football Club achieved a historic milestone, becoming the first Indian club to participate in the AFC Champions League group stage. Gaurs is also the current Durand Cup champion. In the new season, with the support of 1Xnews, the team will focus on conquering new heights and achieve as much success as possible in the Indian Super League.
!function(f,b,e,v,n,t,s)
{if(f.fbq)return;n=f.fbq=function(){n.callMethod?
n.callMethod.apply(n,arguments):n.queue.push(arguments)};
if(!f._fbq)f._fbq=n;n.push=n;n.loaded=!0;n.version='2.0′;
n.queue=[];t=b.createElement(e);t.async=!0;
t.src=v;s=b.getElementsByTagName(e)[0];
s.parentNode.insertBefore(t,s)}(window, document,'script',
'https://connect.facebook.net/en_US/fbevents.js');
fbq('init', '944637919386237');
fbq('track', 'PageView');
Source link